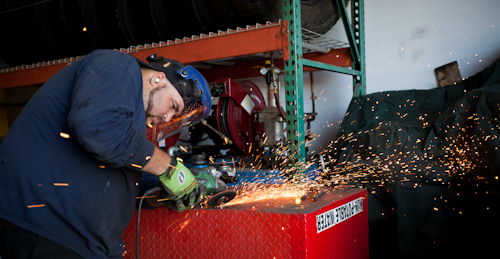 Is your half day fabrication job taking a week?
Does it really have to be hauled to a welding shop?
Cast steel, aluminum or stainless welding headaches?
Need Carbon Arc gouging? Steel spring hangers ripped off your frame?
Axles damaged or dog tracking? Frame bent? Second time this has happened?
We have developed a repair procedure that is guaranteed!!
Frame continually cracking? The repair doesn't last long?
We have developed a repair procedure that has solved some of the toughest fatigue cracking challenges!!
Zombies roaming the night, sawing you locks?
Do your locks need security shields? Are the locks four levels underground in the basement?
Welding trucks don't fit inside the garage?
No problem we have a solution. We carry welding certifications! Do you need proof of welding certification before we can start on your carnival ride, scissor lift, crane etc…?
We will provide Welding Certs upon request.
Aluminum Welding Aluminum moving ramp about to collapse?
Aluminum truck box cracking?
Aluminum tank dripping hydraulic oil?
Aluminum end dump doors falling off the hinges?
Aluminum end dump falling off the frame?
We've seen and fixed just about all aluminum headaches. Scissor Lift Repair Was told the scissor lift pins cannot be repaired without pulling the entire box and scissor arms off the frame. Check out our photos. We are proud to have figured a way around that headache. Cast manifolds cracked? Cast ears break off your gear reducer? Cast pump has too much flex and need to add webbing? These are fun jobs for us.
Thirty percent of what Mobile Diesel Medic does is to weld and fabricate. 
Our jobs range from several hours to several weeks.  No job is too small or big.  Including Cast Steel!!
Everyone says cast steel welding is a dying art.
Our entire team of mechanics has the skills, special materials, and equipment to weld cast steel, aluminum, stainless and mild Steel at your job site. We carry a large stock of metal to fabricate any structural solution for frames, buildings, tubes, boxes, ramps, lifts, manifolds, etc…
Each of our mobile repair trucks carries four different bottles of shielding and cutting gases, wire and stick consumables, and we even carry a very expensive filler material for high fatigue, cracking design headaches.
we weld & fabricate throughout the sf bay area
san francisco • oakland • san jose • san mateo • south bay • marin • san rafael • north bay • east bay