At Mobile Diesel Medic, we are a mobile only service, with the inventory, tooling and education of an OEM shop. We are in and out of the San Rafael and North Bay area on a daily basis. Mobile Diesel Medic's business model is exclusively mobile. Therefore there is no band-aiding patch job repairs until we can return to a regular shop at our company. We are the regular shop all the time and therefore will take your job very seriously every time. We only consider "mobile repair" as the regular shop. Equipped with 5 service trucks (full on shops on wheels) Mobile Diesel Medic offers the complete range of quality repairs and maintenance. We are much much more than a quick oil change operation.
Electrical/Computer Scan Services – We regularly cut into old wiring harness and load test signals between on-board computers and sensors. We have 8 different scan tools, 6 dealership software packages that communicate between different trucks and tractors and our technicians. Read more here.
Brakes – If you are struggling with air brakes locking up, not unlocking, leaking, ABS lights on, frequency valves sporadically locking the parking circuit, S-cam needing adjust, auto slack adjusters sticking, reluctor ring on ABS not triggering sensor…
Welding / Metal Fabrication – We have 9 welders for a whole variety of process's. We offer a super high ductility rod for crack prone frame welding jobs. All frame welding work is fish-plated and pass all CHP scale inspections. We carry tri-gas mixes for stainless steel welding as well, we offer shielded aluminum welding. Read more here.
Hydraulics – Each one of our trucks is equipped with three thousand dollars of hydraulic test equipment. We can isolate sticky spool valves, defective hydrostatic transmissions, problematic PTO systems, drifting cylinders on cranes, slipping Mico brakes, exploding Eaton, Vickers, Parker hydraulic pumps etc…
We service all domestic and international brands including: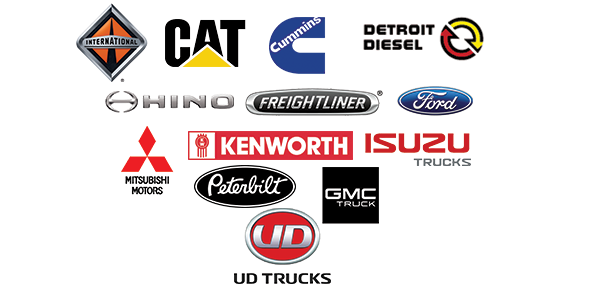 International | CAT | Cummins | Detroit Diesel | Hino | Freightliner | Ford | Mitsubishi Motors | Kenworth | Isuzu Trucks | Peterbilt | GMC Truck | UD Trucks
---
Tractor-trailer • Semi Truck • Box truck • Bucket truck • Flatbed • Bob­tail • Lift Truck • Cab-Over Truck